Archives de catégorie :
Flyers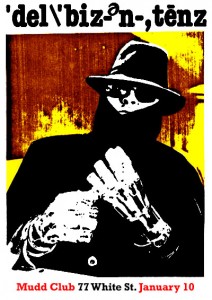 The Del-Byzanteens: « Draft Riot »
(Don't Fall Off The Mountain).
New Yorkers The Del-Byzanteens were responsible for one of last year's most outstanding 12 inch singles, « Girls Imagination », a beguiling mix of Egyptian promise and « Surf's Up »-period vocalizing.
At last their debut album is about to be released—watch this space—but strangely they've chosen the weakest track as a single. « Draft Riot », contrary to the title, is too smart and breezy by far, like Neil Diamond singing with the dBs. Check instead the « flip », a reworking of, would you believe, the old Pentangle song « Sally Go Round The Roses ».
Melody Maker, April 17, 1982