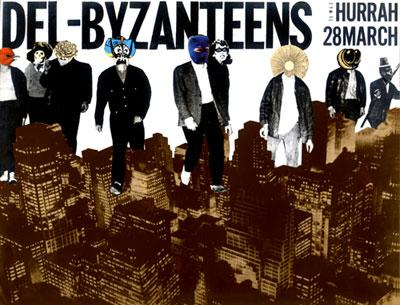 I've already posted an entry about the Del-Byzanteens (the No Wave band that Jim Jarmusch was a vocalist and keyboardist in) here before (July 24), and I also have section on them in the Resource Page.
To recapitulate:
They released a 12" ep ("Girl's Imagination", 1981), an LP ("Lies to Live By", 1982) and a 7" single ("Draft Riot", 1982), all by a British record company called Don't Fall Off the Mountain (a section of Beggars Banquet).
They played a number of concerts at clubs such as CBGB:s, Hurrah and the Mudd Club in New York City. Two of their songs were featured in Wim Wenders' 1982 film "The State of Things". At the time, The Hot Press said that their debut LP was "a debut equal to anything out of New York these past six years", and Melody Maker followed suit: "This is mighty stuff... You are strongly urged to investigate this record... outstanding". Like Jim, many of its members have gone on to become famous in their own right, making music (Phil Kline), art (James Nares), and writing (Luc Sante).
Thing is – while you'd be forgiven for suspecting otherwise, they actually made a number of really good songs, somewhere in the vicinty of... oh, I don't know, The Fall, Cabaret Voltaire, New Order, Violent Femmes, Talking Heads and early 80's British "new romantic" bands.
Problem is – it's not easy to get hold of their music. Their back catalogue has never been re-issued on cd, and even on ebay the old vinyls are a rare sight. "Girl's Imagination" was featured on the Beggars Banquet's 1999 compilation "
Pspyched
", and again on the Gomma compilation "
Anti-NY
" in 2001, while "My Hands Are Yellow (from the job that i do)" was released on "
New York Noise
" Vol 2 (listen to a snippet on the linked page), in 2003. And that's it! There's nothing whatsoever on iTunes.
Of course, with good googling skills, a p2p-application, good patience and a bad conscience it shouldn't be all that hard to get hold of something off "the cloud", but there are also slightly more legal ways (I assume) of catching their music. The "
Official MySpace Page
" for the Del-Byzanteens will let you listen to streams of six of their songs, of which one is a previously unreleased demo track ("Fascination"; dated 1986!), and the page also contains three downloadable mp3's (actually four, if you look closely!). Also, mp3 blog portals like
The Hype Machine
will usually find you a track or two.
The MySpace page also hosts a great picture gallery of photos and flyers, along with three video clips of the Del-Byzanteens on stage (at the Hurrah club), filmed by Merrill Aldighieri. And here's the best news so far --- on her website, only a few weeks ago, she posted the clip linked below, along with this note:
There are 3 full concerts of Del BYZATEENS in the Hurrah collection... A feature legnth DVD based on the Del Byzanteens live performances at Hurrah has begun. Look here for an announcement for the release.
So – the Del-Byzanteens, it seems, are surely though ever so slowly making it into the digital age. Let's hope the concert DVD will indeed soon see the light of day, and let's hope somebody somewhere realizes that the Del-Byzanteens back catalogue is more than due for a cd re-issue!
- Read more about No Wave: here and here.
- Read more about downtown Manhattan in the late 70's to early 80's, in this article by Luc Sante (who is currently writing a book about the period)
.